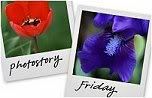 Hosted by Cecily and MamaGeek
Last Tuesday, Jason and I went to the Deen supermarket and I bought 10 pink roses for 1 euro. Cheap isn't it. And when I was at home, I put our groceries in the right places and then I picked up my digicam. Couple minutes after I was busy, Jason was calling me.
Jason : Mama, Jason also!! Click....
Me : Ok! Wait after this.
Jason : NO!! Jason also...click!!
He was jealous to pink roses because I was busy taking shots of them hi hi hi hi...
Me : Ok! Now...take a sit. I'll take photos of Jason.
He was so happy when I said that. He was direct take his favorite bears and sit.
Jason : I am ready, mama.
I took couple shots and then I said "Give a big kiss to Brownie".
Me : That is good. Now....give a kiss to Bloem Bear also.
Me : Wonderful. Now....try to smile.
Me : Ops....that is not really good smile.
Jason : Aaahhh... I am tired smile, mama.
Me : So...we stop now.
Jason : OK!
Then he was playing with his cars and he let me continue to make shots of my pink roses hi hi hi hi.....