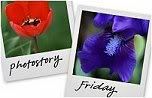 Hosted by Cecily and MamaGeek
Last week Friday, we went to the city to take my new eye-glasses. Hubby had a half day work so...we went after Jason took a nap. At first, I really not sure that we could go because the weather like this......
I was glad that we went to the city. The city was full with Christmas decoration.
Looks, how happy Jason was while we were eating in McDonalds. Because we were eating french fries.